Senna Leaves & Pods Powder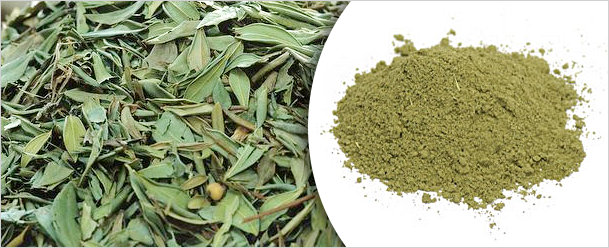 We are manufacturing and exporting Senna leaves and Pods powder all over the world. The world is always looking for alternative medicine and products of natural origin continue to dominate. The great gift of nature to the mankind.
Our country is blessed with all the natural resources such as sea, hills, river, waterfalls, windfalls, windmill, temples, forest, orchards, tea plantations, horticulture, agro farms and medicinal herbs. India is the botanical garden of the world. Among all Senna is also one of the efficient herbs and it is used as vegetable laxative all over the world. The laxative property is mainly due to chemicals namely sennoside A, B, C, & D Senna Pods and leaves are used as a pharmaceutical raw material. We are one of the strongest and largest manufacturers and exporters of Senna Pods & Leaves supplying worldwide as per buyers specification, quality and packing. We have our own plant for processing of senna pods and leaves to gain high quality product with uniform size and weight
Botanical name: Cassia Angustifolia Vahl
Family name: CAESALPINACEAE
Common names: Tinnevelly Senna, Sanai, Sonmukhi, Midhiaval
Part used: Leaves and Pods
Properties: Purgative (mild)
Primary uses: Constipation, Jaundice, Worms
Secondary uses: Acne, Breath/order, Obesity, Skin disease, Colic
We are leading Exporter Manufacturer and Supplier of Senna Leaves Powder and Senna Pods Powder. We are openly invite for Buyer of Senna Leaves Powder and Senna Pods Powder.
KeyWords
Buy Senna Leaves Power | Buy Senna Pods Powder | Senna Leaves Powder Exporter | Senna Pods Powder Exporter | Senna Leaves Powder Manufacturer | Senna Pods Powder Manufacturer | Senna Leaves Powder Supplier | Senna Pods Powder Supplier |